Street Lighting Retrofit Project
The street lighting retrofit project has been completed! To leave a comment about the project or about a specific LED fixture, please e-mail us at WorcesterEnergy@worcesterma.gov.
---
Project Completion on December 21, 2017, the city officials, project managers, contractors and National Grid representatives met on Moore Avenue, near Pole 10, to attend the final installation and a celebration of the LED Streetlight Project. This day of the Winter Solstice, marked the completion of lighting the city with 13,419 LED streetlights, ahead of anticipated schedule. Read on to learn more about the project!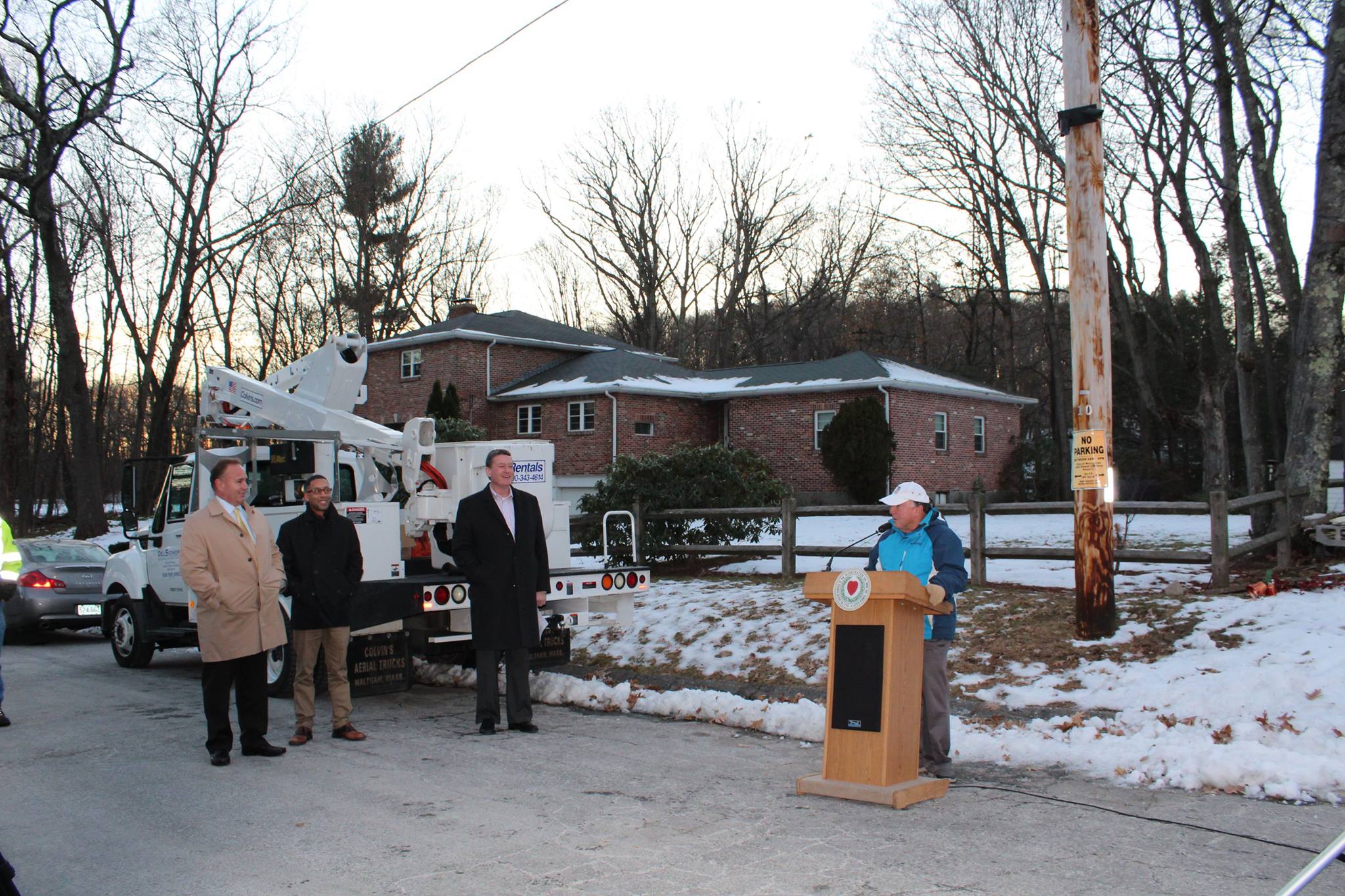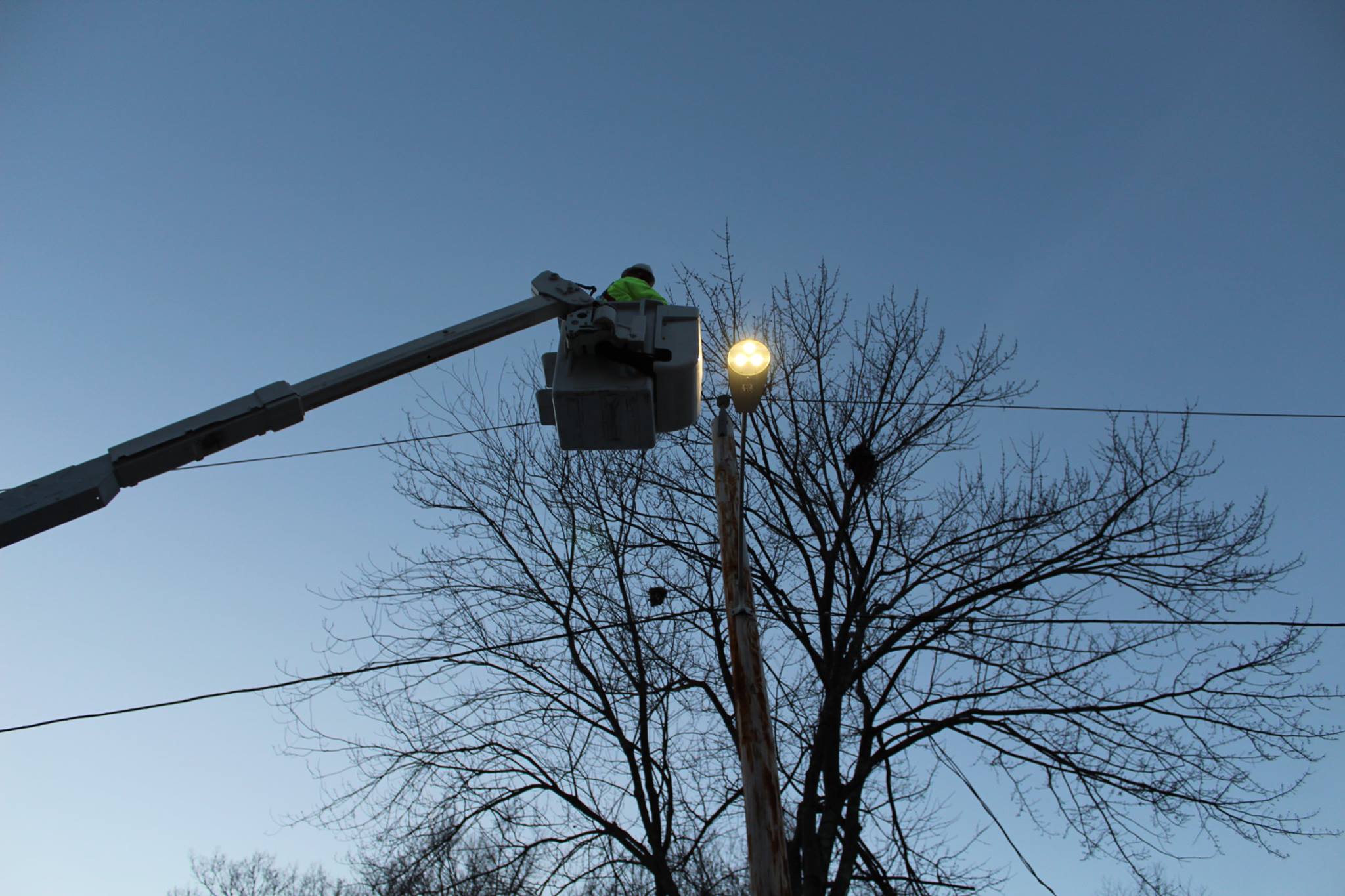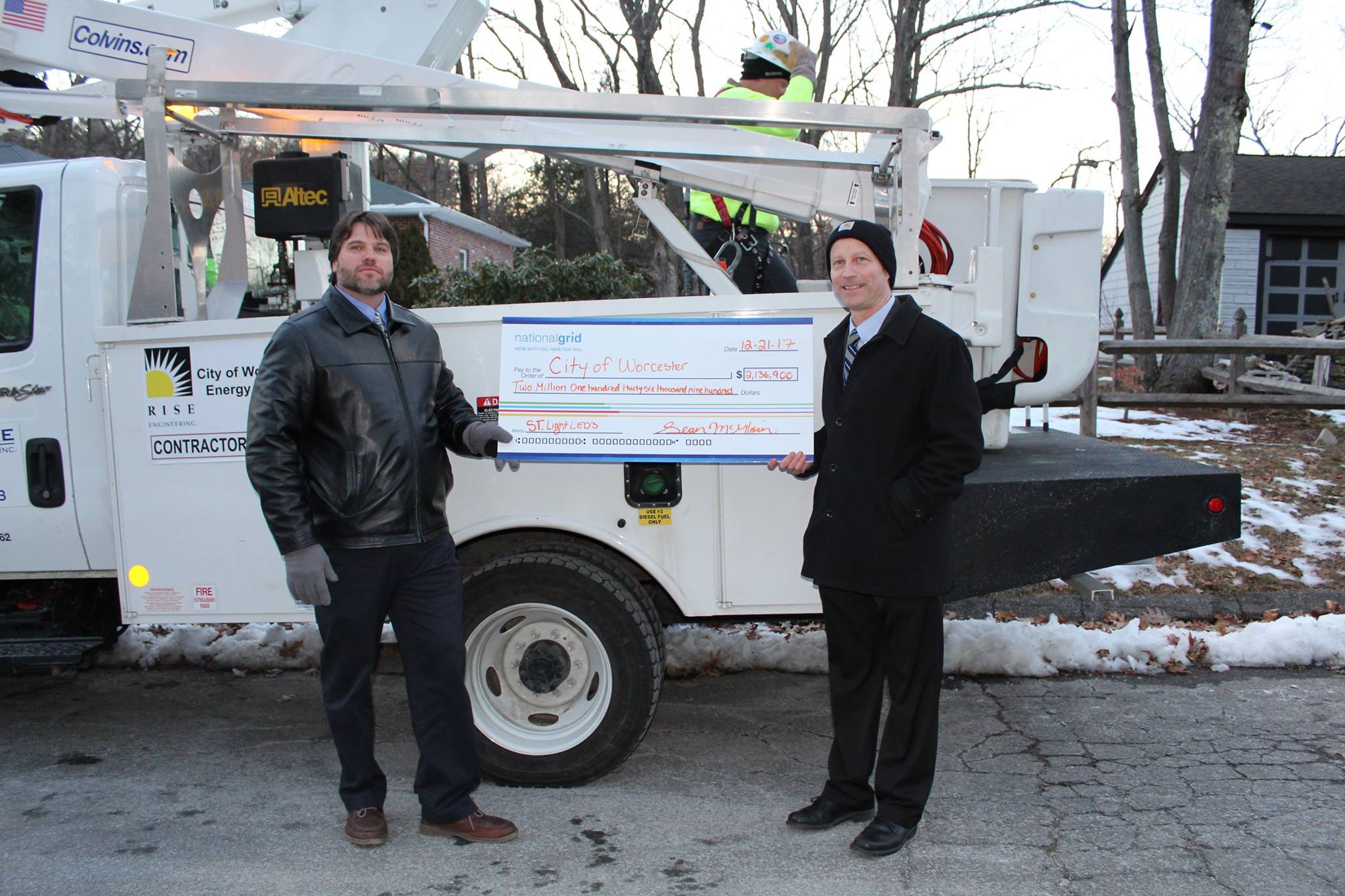 Most of the work was done in 2017. This project is expected to save ~$910,000 and over 6,000,000 kWhs a year in electricity – a reduction of 60%! The savings are based on:
much lower wattage of the LED fixtures;
reduction in annual maintenance costs (for such services as lamp routine maintenance, knockdown, takedown, street light outage, and more), and
accurate metering of the electricity usage of each fixture.
---
Pilot and Demonstration Projects Before Main Installation:
Following a small pilot test installation of 30 street lights in the summer of 2015, a demonstration installation of 492 LED lights along 31 streets, totaling in length 14 miles, was conducted in August 2016. The purpose of the demonstration project was:
To provide the public with visible examples of a range of new street lights prior to the start of the main phase;
To ensure satisfactory operation of the installed LED lights and associated controls; and
To ensure that the current light levels over the public roadways and sidewalks are retained or enhanced (e.g. by using photometric measurements of the lights' brightness and distribution).
The Demonstration Project was completed successfully, with staff taking in feedback from the community members and adjusting the project accordingly.
---
Frequently Asked Questions:
What is an LED?
Light Emitting Diode. LED lights' efficiency stems mainly from their design – as an electrical current passes through semiconductor material, it illuminates light emitting diodes, and the produced heat is absorbed into a heat sink. By comparison, older types of lights waste a lot of energy through considerable heat loss.
What are the full project scope, cost and projected savings of the project?
The City did the Streetlight Retrofit Project as part of Phase IV of the Municipal Energy Savings Project.
Approximately 14,000 municipal streetlights were replaced with energy-efficient LED fixtures, with intelligent controls, dimming capabilities, and individual meters. The replaced lights consisted, mainly, of high-pressure sodium and metal halide light fixtures. (As part of the same Phase IV, the lights at four municipal parking garages were also converted to LED fixtures.)
The project cost was $9.9M (after National Grid's energy efficiency incentives), resulting in a 10.9 year payback. The total savings are estimated at $910,000 per year in energy and maintenance costs.
Will I notice the new lights?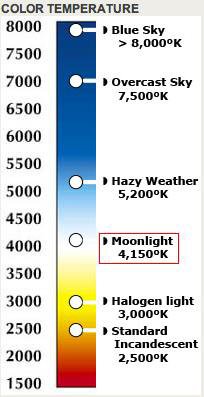 The existing light fixtures were replaced with similar looking light fixtures, though the new light itself looks a little different ('cooler').
Same Brightness. The new lights aren't any less bright. In fact, the City of Worcester's lighting standards are designed to provide equal or exceed the current light levels along the roadways and sidewalks.
Cooler Color Temperature. The color temperature of the new streetlights are 4,000 Kelvin, similar to the color temperature of moonlight. The term "color temperature" is used to define how warm or cool a light source is - the lower the temperature, the warmer the color looks. At the time of design and procurement of the project, virtually all the LED streetlights being installed around the world were 4,000 Kelvin or higher. Since that time, 'warmer' (i.e. 3,000K or less) LED lights became commercially available and affordable.
Truer Color Rendition. The pre-existing high-pressure sodium lamps produced a light that looked yellow. The new LED streetlights make colors look bright and more "true" to the natural color. Trees look green instead of brown; a blue car looks blue instead of gray.
Why is the City switching to LED streetlights?
The City's lights were at the end of their useful lives. Most of the streetlights, largely high-pressure sodium and metal halide light fixtures, were 10 years or older.
Efficiency, Low Maintenance, Longer Lifespan --> Cost Savings:
LED lights use about 50% less energy (measured in watts) for the same amount of light output (measured in lumens) as compared to their predecessors.

LED lights operate about four times as long as their predecessors (estimated 100,000 hours as compared to 25,000 hours, respectively).

LED lights provide better service reliability, and, therefore, lower maintenance costs.
Intelligent Light Controls/Adjustments: The new LED lights were network-integrated and can be remotely managed to allow for dimming, diagnostics, adaptive scheduling, failure alerts, and more!
Reduced electrical consumption leads to reduction in greenhouse gas emissions.
More uniform light quality with "truer" colors.
Reduced Light Pollution: The vast majority of the new LEDs are "cobrahead" fixtures, which better direct the light downward thereby reducing unnecessary light spillage and sky glow, as compared to the high-pressure sodium and metal halide light fixtures.
What types of lights were used and who did the work?
Acuity Brands Lighting Inc.'s American Electric Lighting series (for the existing tall "cobrahead" light fixtures) and Holophane series (for the existing historic looking light fixtures) were used with CIMCON Lighting controls. The light fixture types did not change.
RISE Engineering (a division of Thielsch Engineering, Inc.) was the Contractor.
Honeywell Energy Services Group was the Construction Manager.
How were the light levels determined for each streetlight?
A system of street classification was developed to determine appropriate light levels for each street. Streets were evaluated for width, light pole spacing, and vehicular and pedestrian activity and were assigned to categories corresponding to lighting criteria. Wattages and lumen output were designed to meet or exceed the current light levels.
I've heard the new LEDs may disrupt sleep patterns. Is that accurate?
There's no evidence that LED street lighting impacts human sleep cycles any differently than the high pressure sodium streetlights that have been used for the past 30 years. When considering the effects of light at night, indoor lighting is more of a concern, since the quantity of light emitted by streetlights is many times lower than that emitted by typical indoor lighting, TVs, tablets or PC screens. That said, we're always open to public feedback on this process - e-mail us at WorcesterEnergy@worcesterma.gov.
If interested to learn more, see "An Overview of Street Lights and Circadian Sleep Cycles" by Dr. Steven Lockley, Harvard Medical School, Division of Sleep and Circadian Disorders, and Sam Lipson, Director of Environmental Health, Cambridge Public Health Department, contributing.